Vertical Boring Machine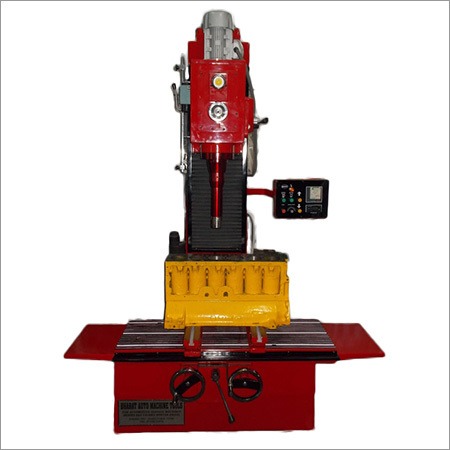 Vertical Boring Machine
Product Description
With our continuous efforts, we have marked a distinct niche in the business of manufacturing, supplying and exporting Vertical Boring Machine. Only superior quality material and latest manufacturing methods are utilized while fabricating the offered product. These machines are extensively demanded across the globe for the purpose of fine and accurate machining of cylinder bores. Equipped with advanced components, our offered Vertical Boring Machine is acknowledged for the below mentioned features:

Optimum performance
Robust construction
Resistance to corrosion
Easy to use
Other details:

Base and column are of high grade casting, Boring head travels on a ground Finished guide ways protected with bellows. Boring head is fitted with hardened alloy gears to give smooth feed and slide on columns.
Controls are provided on one side of the machine on, comfortable position and easy operation. Two models manufactured at present are alike as for structural and main dimensions concerned. New Model 600 has variable speed gear box.
Standard Accessories:
Boring tool setting device complete with micrometer.
Two tool holders for boring.
Portable Grinder wit suitable Grinding/Lappint Wheels
Two Sets of Parallel blocks of sizes 200 to 600 mm and 120 to 600 mm.
Service Spanners
One Spindle Fitted with the Machine bore dia capacity 65-135 mm.
Extra Accessories:
Extra Spindle of capacity: 32-65 mm
Extra Spindle of Capacity: 135-250 mm
V Block Stand: (For V type engine)
Two Block Jacks
TECHNICAL SPECIFICATIONS

| | |
| --- | --- |
| Model | 600 |
| Boring Capacity | 32 mm to 250 mm |
| Boring Depth Max. | 500 mm |
| Main Features | |
| Spindle Travel Max (D) | 600 mm |
| C.I.To Colums Ways | 450 mm |
| Useful Table Surface | 125 to 420 mm |
| Table Cross | |
| Transverse Max. | 50 mm |
| Table Transverse Max. | 1400 mm |
| Speed | |
| Spindle Rotations | 0-600 variable speed |
| Spindle Head | |
| Feed/Revocation | 0.02, 0.04, 0.06 |
| Rapid Up and down | 750 mm |
| Motor Rating | |
| Spindle Motor | 2 H.P.Motor |
| Rapid Up and Down | 1H.P Motor |
| Dimensions & Weight | |
| Length | 1860 mm |
| Width | 1420 mm |
| Height | 2400 mm |
| Approx Weight | 2400 Kg.Approx Packed 3000 Kg. |
| Length of Slide | 1250 to 420 |
Special Boring Spindle and tool Holder are supplied as per requirements
Boring

Spindle

Tool Capacity

Holder

BS-46

TH 4670 46-70 mm

BS-65

TH 6590 65-90 mm

TH 8535 85-135 mm

BS-130

TH 1317 130-170 mm

TH 1723 170-230 mm
Frequently Asked Questions
1. A vertical boring machine is what?
Ans - A precise hole can be made in a piece of metal or an existing workpiece using the machining process known as vertical boring. They do the duties using a device known as a vertical boring machine. This massive, powerful equipment can travel up and down and is typically very large.
2. What distinguishes a vertical boring machine from a horizontal boring machine?
Ans - A horizontal boring mill differs from a vertical boring mill in that the workpiece in a horizontal mill is stationary while the tool rotates. A vertical boring mill will have a stationary tool while the workpiece revolves.
3. What is the boring machine's operating principle?
Ans - Single-point tools are fastened to a boring head's rotating spindle. These circle the margins of the existing holes as they progress. You may manage how the tool sweeps around the hole's diameter by adjusting the boring head.
4. What distinguishes drilling from boring?
Ans - The hole is made primarily by drilling, while boring is a secondary procedure that can extend or complete an already-existing hole. Boring can be a crucial step in producing a hole that is closer to the needed tolerances because the size of the first hole is totally reliant on the drill bit.